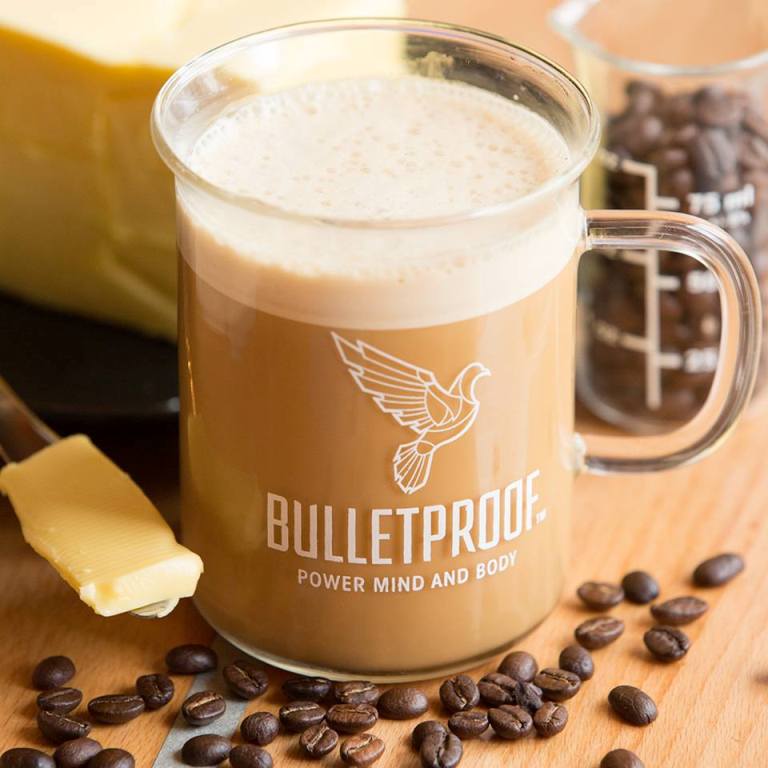 As promised, here is the recipe for "Bulletproof Coffee", I start every single one of my mornings with this coffee. The recipe comes from the Bulletproof Diet book by Dave Asprey. His diet focuses primarily on eating high fat, it involves intermittent fasting and putting your body in a "fat-burning" mode, otherwise known as ketosis. I will be posting more about this book and its philosophy in the near future. This coffee is to be had as a breakfast as it is filling and energizing -I promise. At first it's a bit of a strange thing to get into but after about a week or two you'll be loving it.
I am not here to promote the book/diet and I haven't been asked to do so by anyone, I'm sharing this recipe with you because I have been following this new way of eating for a few weeks now and I've noticed measurable changes in my strength, alertness, mood and focus, thus, positive changes have also been observed in my physical appearance. Anyway, more to come so stay tuned! For now, here is the recipe…
Ingredients
-2 tablespoons of freshly ground coffee (preferably the Bulletproof brand because it is said to be processed in such a way to reduce mold contamination in the coffee) *I am not sure how accurate this claim actually is, however, the coffee itself is quite good so for now, I like it!
-1.5 – 2 cups boiling water
-1 or 2 tbsp organic, grass-fed butter -unsalted (I use this one)
-1 or 2 tbsp MCT oil (I use this one)
-Few drops of liquid stevia to taste (be sure that there aren't any fillers in your liquid stevia and that the ingredients are very clean/pure, I use this one) *This is optional, only add stevia if you like your coffee a little sweet, I never used to, but for some reason I like it now…
-1/2 cup of unsweetened vanilla almond milk warmed until hot (the original recipe in the book doesn't call for this, however, I don't like drinking my coffee black, whether it's true or not, I feel like black coffee stains my teeth so I put in a little almond milk in it to lighten it up!)
*Add more butter/MCT oil (2 tbsp) if you're usually quite hungry in the morning, if not, start with 1 tbsp of each
Directions
Add freshly ground coffee beans with the boiling water to a French press. Let it steep for 7-10 minutes. Push down on the French press to "drain" the coffee and pour it into a blender. To your blender, add your butter, MCT oil, stevia (if using) and 3/4 of your hot unsweetened almond milk. Blend until smooth and creamy for about 30 seconds. Pour into a coffee cup/mug and enjoy!
Now this step is a little extra and optional BUT… If you like your coffee with a little foam, froth the remainder of the almond milk and use it to top your coffee and if you're going the extra mile anyway, you might as well add a dash of cinnamon too, yum!
*Tip: I use a little hand held frother very similar to this one, it works great! Almond milk also froths A LOT better when heated.
PS: If you don't have a French press, don't worry, it's not critical. You can make your coffee in any which way, the French press just provides and fresher and better taste in my opinion and they are very affordable. Especially if you get a single serving one! I use this one and fill it about half way when making my coffee.
Note: none of the products mentioned are sponsoring this post, they are just the gadgets I happen to have in my kitchen and I'm only showing them to you as examples!
I really hope you enjoy this recipe as much as I do, and if you don't like coffee, this recipe can also be made with a green tea instead of coffee or as a hot chocolate by replacing the coffee with 1 tbsp of raw cacao powder + the boiling water (or spearmint tea if you like mint + chocolate!).
xx,
Leah