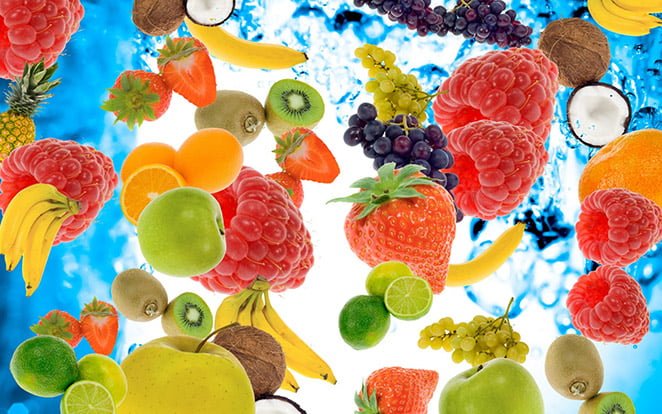 These fantastic muffins are filled with so many delicious and nutritious ingredients! Too many to even give them a name! Although, I guess if this recipe had a name it would be Banana-Blueberry-Strawberry-Apple-Coconut- Pineapple-Walnut-Oatmeal Muffins! Wow, what a mouthful! Let's just call them Delicious & Nutritious Muffins…
This muffin recipe is one of my favorites and I've modified it to perfection! Even if this recipe requires a lot of ingredients and preparation, it's worth the time and effort in exchange for a healthy snack. They are 100% whole grain and very low in added sugar. I hope you enjoy them as much as I do.
Preheat oven to 375˚
Ingredients:
– 1/2 cup of oat flour (1/2 of oats ground up into a flour like consistency using a blender/food processor or coffee bean grinder)
– 1/4 ground flax seed
– 3/4 cup all natural protein powder, preferably raw or plant based protein (all natural vanilla flavored works well too!)
– 1 tbsp of baking powder
– 1 tsp of baking soda
– 1 cup of oats
– 1 tsp of cinnamon
– a pinch of each nutmeg and powdered ginger
– 1/4 of walnut pieces
Directions:
Mix all ingredients listed above in a bowl. Then, add to the following ingredients when well combined.
The following ingredients…
– 1/4 cup of pineapple cut or chopped into small chunks
– 1/4 of unpasteurized honey
– 2 shredded carrots
– 1 pureed apple (with the skin)
– 2 egg whites (you can also add the egg yolks if you wish to)
– 1/4 of melted extra virgin coconut oil
– 1 cup of frozen strawberries ( chopped into small little pieces using a blender or a food processor, be sure to keep the strawberries frozen so they don't turn into a puree!)
–  1/2 cup of blueberries fresh or frozen
– 1 pureed banana fresh or frozen
Now, after ALL the ingredients are well combined, fill a muffin pan with batter 3/4 of the way up or to the top (depending on how big you want your muffins). Bake for 25-30, until slightly golden or a toothpick comes out clean.
Tip: These muffins freeze well. For a quick snack pop one in the microwave of a couple of seconds. They are also delicious with a little all natural peanut butter!
Enjoy & Stay Healthy!
Proteen Queen