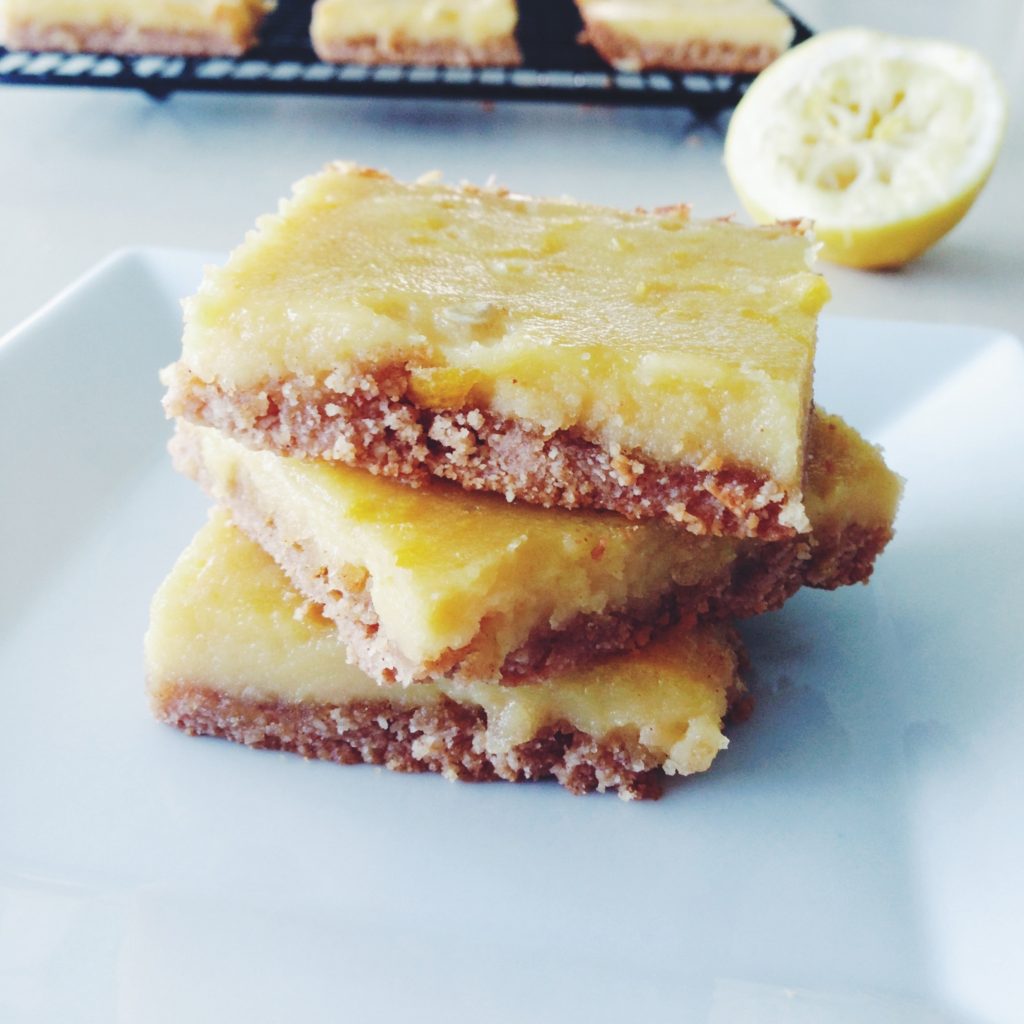 Well hello! I know it's been just over a month since my last post… And I swore I was going to post very regularly this summer… But oh well, life happens!
Anyway, since the end of the summer is always bittersweet, I thought I'd share a DELICIOUS paleo lemon square recipe that is truly oh so sweet!! The coconut almond crust perfectly accompanies the tartness of the lemon filling. This recipe is full of wholesome ingredients and can be enjoyed totally guilt-free!
Disclaimer: this recipe is NOT my own, I found it here, but I loved it too much to keep to myself, so I hope you enjoy it as much as I do!
Ingredients for the Crust:
-1 cup almond flour
-1/4 cup almond butter
-1 tbsp unpasteurized and preferably raw honey
-1 tbsp organic grass-fed butter (softened)
-1/2 tsp aluminum-free baking powder
-1/4 tsp sea salt
Ingredients for the Filling: 
-3 organic free-range eggs
-1/2 cup unpasteurized and preferably raw honey (I suggest reducing the amount of honey to either 1/4 or 1/3 cup, depending on how tart you like the lemon filling to be; so taste it and add sweetness as desired –Hmm… Food for thought…Liquid stevia could also potentially be used in this recipe to make it have a lower GI… I will experiment and keep you posted!)
-1/4 lemon juice
-2 ½ tbsp coconut flour
-1 tbsp lemon zest (finely zested)
-Pinch of finely ground sea salt
Directions:
Preheat the oven to 350˚ F. Combine all the crust ingredients in a food processor until a crumbly yet uniform texture forms. Firmly press the crust mixture into a 9×9 baking dish (be sure to coat the dish with coconut oil or organic grass-fed butter if it isn't silicon). Poke a few holes in the crust to prevent it from rising too much. Bake for 10 minutes until slightly golden.
Next, combine all the filling ingredients in a blender or food processor and pour the filling into the baked crust. Return the squares to the oven and bake for an additional 15-20 minutes or until the filling is no longer "liquidy" but slightly firmer or "set" sorta like Jello. Remove the squares from the oven and allow them to cool. I also suggest chilling the squares in the fridge for an hour or so before slicing and enjoying.
Talk soon!
xx,
Leah