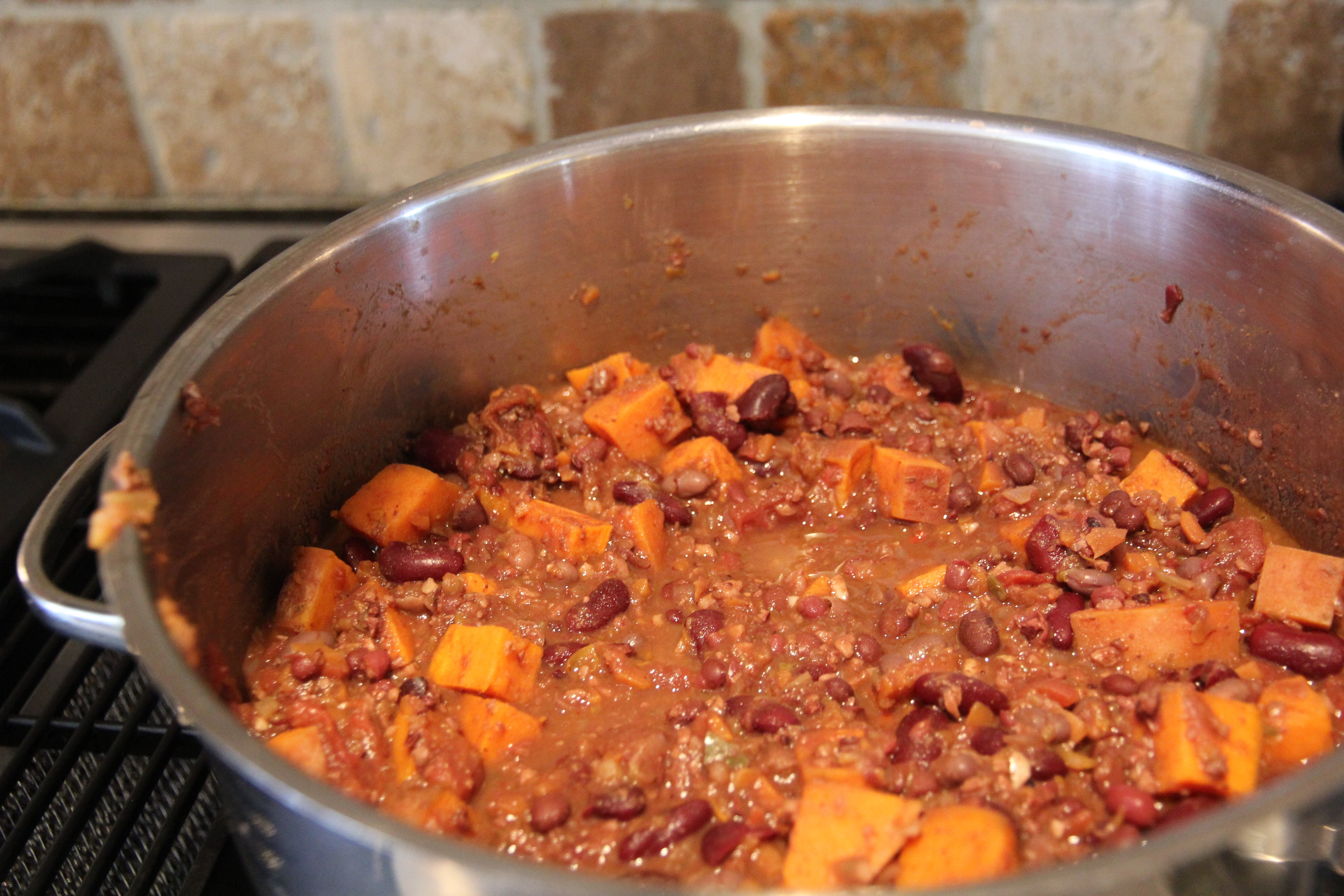 I recently discovered this recipe for a fantastic vegetarian chili by Green Kitchen Stories … It's so delicious and filling! It's unique blend of ingredients creates a very meaty texture without compromising flavour.
Here is the recipe, it's only slightly modified from its original state.
Ingredients:
-2 tbsp Coconut Oil
-1 Large Onion
-3 Cloves of Garlic
-1 Chili Pepper
-2 Red Peppers
-2 ounces Dark Chocolate (broken into pieces)
-1-2 Sweet Potatoes (washed with skin on and cubed)
-3 Carrots
-4 Stalks of Celery
-1 1/2 cups of Raw Soaked Walnuts (see post)
-2 Cans of Diced Tomatoes
-3-4 Cans of Beans
-1 Cup of Vegetable Broth
-2 tsp Salt
-1/2 Red Wine or Balsamic Vinegar
-1/2 Coffee
-1 tsp of Chili Powder
-1 tsp of Cumin
-1 tsp Dried Oregano
-1 tsp Dried Basil
Directions:
Heat coconut oil in a non-stick skillet. Add diced onions and garlic and cook until softened 2-3 minutes. Then, add the chili pepper, red pepper, carrots and celery and cook for another 3-4 minutes. Now, add the tomatoes, vegetable broth, red wine/balsamic vinegar and coffee to the pan and simmer on medium-low heat. Right away add the chili powder, cumin, oregano and basil and salt. Finally, add your walnuts and beans and let cook on low heat (covered) for about 30 minutes or until desired consistency is reached.
Enjoy this delicious recipe with non-GMO corn tortilla chips and a dash of hot sauce!
Proteen Queen
---
Also published on Medium.