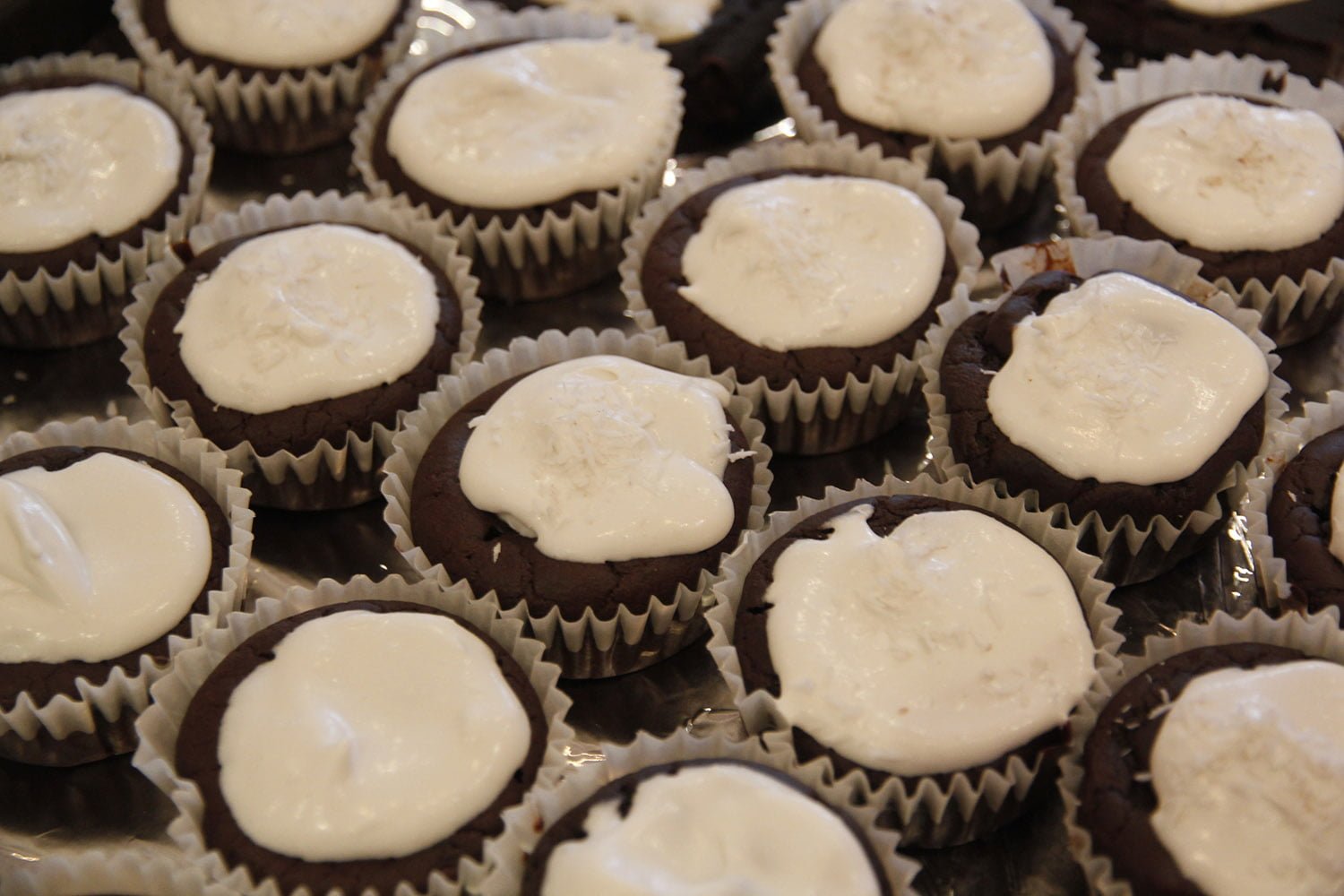 I have this cake every year for my birthday because I LOVE IT! It's so moist and subtly sweet… With a little twist!
Super easy to make. Simply blend all the following ingredients in a food processor or blender until smooth and creamy! Just like a cake batter…
Ingredients:
-1 can of Dark Colored Beans: black, red, navy etc.  (preferably Eden Organics as their beans are organic, soaked and in a BPA-free lined can)
-5 Organic Eggs
-1 tbsp Pure Vanilla Extract
-6 tbsp Raw Cocoa Powder
-1 tsp Baking Powder (aluminum free)
-1/2 tsp Fine Sea Salt
Melt the following ingredients together in a glass bowl in the microwave or in a saucepan on the stove top before adding them to the blender or food processor:
-3 tbsp Organic Grass-Fed Butter
-3 tbsp Organic Extra-Virgin Cold-Pressed Coconut Oil
-1/2 cup Raw Honey
Directions:
Preheat oven to 350˚F and bake  for 30-35 minutes (or until a toothpick comes out clean) in a paper-lined cupcake tray. This can also be made into a cake in a round or square baking dish. Simply bake for 45 minutes.
Whipped Coconut Frosting:
Ingredients:
-1 can Full-Fat Organic Coconut Milk-that has been refrigerated overnight (Thai Kitchen works great!)
-1-2 tbsp Pure Maple Syrup
-1 tsp Vanilla Extract
*You can add preferred flavoring such as lemon rind, orange rind, cocoa powder or other fruit extracts depending on what you plan to use this for.
Directions:
Using a spoon, scoop out the hardened part of the coconut milk, this is known as coconut cream and is the most important component of the recipe. Do not use the watery liquid that remains in the can, save it for smoothies instead! In a large bowl using a hand mixer, whip the coconut cream for a few minutes until light and fluffy. Finally add in your desired sweetener and vanilla. It is best to be used immediately however, you can refrigerate this whipped topping and give it another whisk when you're ready to serve it.
I hope you enjoy this recipe!
Proteen Queen
Recipe reference with slight modifications:
http://tasty-yummies.com/2014/03/04/make-whipped-coconut-cream/