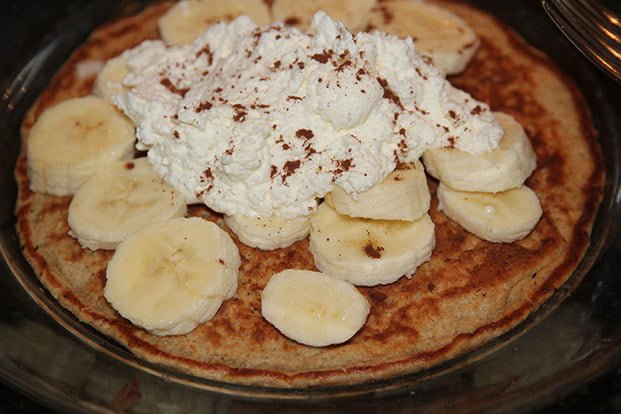 These pancakes are heavenly and super EASY! I look forward to having them every Sunday. Slightly different from my Oatmeal Pancake recipe, these pancakes have protein powder in the batter making them filling and fluffy! Enjoy!!
Ingredients:
-6 cups GF Oats
-2 scoops of Vanilla Protein Powder (Here's my Favorite!)
-5 Eggs
-2 cups Almond or Coconut Milk (or a blend!)
-2-3 tsp Unsweetened Organic Coconut
-1 1/2 cups Water
-1 heaping tbsp of non-aluminum Baking Powder
-1 tsp of Pure Vanilla Extract
-2 mashed Bananas
Directions:
Mix all the ingredients in a mixing bowl and let sit in the fridge for at least an hour or overnight to allow the oats to soak up the liquid. Later, add a little extra water to thin out the mixture. Optional, but recommended: Using a hand blender, blender or food processor, cream the batter for a smoother more uniform consistency. Heat a skillet on medium heat and add a little grass-fed butter, coconut or olive oil to cook your pancakes. Spoon the batter into the skillet into your desired pancake size. When the edges of the pancakes appear dry flip the pancakes and continue cooking until golden brown. Top with your favourite fruits such as banana, blueberries or shredded apple along with REAL maple syrup, applesauce, jam or even PB.