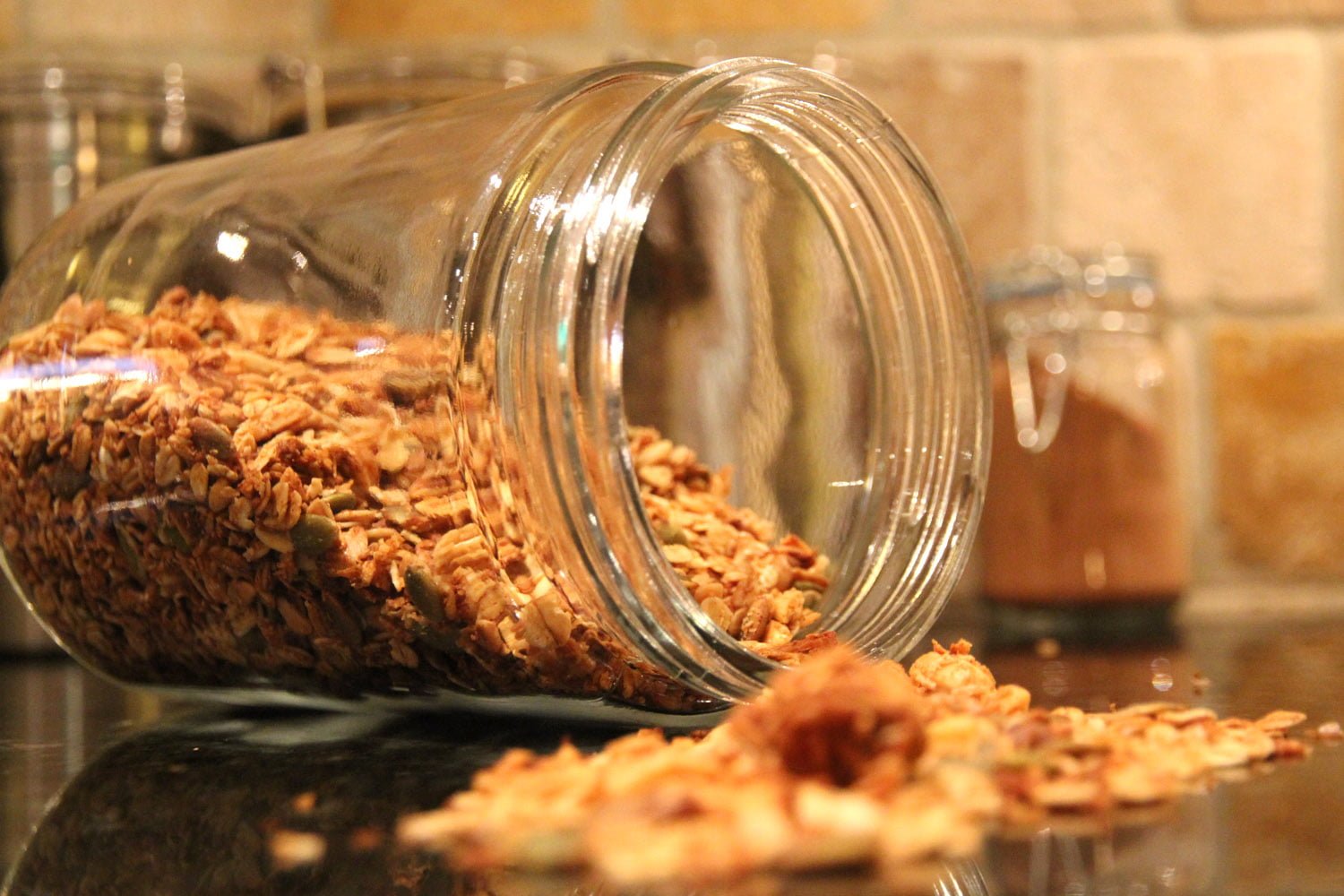 Here is a granola recipe that is slightly similar to my Toasted Oats recipe but just a little sweeter… Not too sweet of course!
I absolutely love this recipe that I recently discovered, well sort of concocted actually from a few recipes that I found. It's slightly nutty, sweet with a hint of maple! It's filled with healthy fats from the nuts and coconut oil and keeps you satisfied as the whole grain oats are slow-burning complex carbohydrates. The fiber in the oats and the protein in the nuts also help to stabilize the absorption of the sugar therefore not raising your blood sugar levels as much. Cinnamon is also great for keeping your blood sugar levels at bay. Enjoy!!
Ingredients:
-6 cups of GF Rolled Oats
-1 cup of Raw Pumpkin Seeds
-1 cup of Raw Sunflower Seeds
-2 cups of Unsweetened Coconut
-1 1/2 cups of Raw Slivered/Chopped Almonds
-1 1/2 cups of Walnut Pieces
-1/3 cup of Raw Honey
-1/3 cup of 100% Pure Maple Syrup
-1/3 cup Extra-Virgin Cold Pressed Unrefined Coconut Oil
-1/3 cup Extra-Virgin Cold Pressed Olive Oil
-2 tsp of Cinnamon
-1 tsp of Ginger
-1/2 tsp Nutmeg
-1 tsp Celtic Sea Salt
-2 beaten Egg whites
Directions:
Preheat the oven at 350˚.
In the microwave or on a stove top pot, melt together the honey, maple syrup, coconut and olive oils. In the microwave this should take about 30-45 seconds. Then, combine all the ingredients in a big mixing bowl until everything is coated evenly. Tip: Use an electric hand mixer! Finally, spread the granola on two parchment paper lined baking sheets and bake for 45 minutes to 1 hour or until golden brown. The house will smell DELICIOUS!
Now, you may think this recipe contains a lot of sugar, but it doesn't. According to my calculations, there is a little less than 6 grams of sugar per 1/2 cup serving. This equals to just about 1 teaspoon of sugar, which is fine post/pre workout or even before school or work especially if you pair it with unsweetened almond milk which has virtually no sugar at all. Keep in mind that regular milk has about 5 grams of sugar per cup… That's without any type of cereal! So really, this granola almond milk combo is a good way to go!