Writing about my skincare routine has never been something I've dabbled in, primarily because (and if you read this post you would know) my skin has never been something I'm particularly proud of. My skin has always been my #1 biggest insecurity because of the hormonal acne I suffered from for many years. It was only when I finished my Accutane treatment (despite it going against many of my healthy living beliefs) that I started to love my skin. If you want to know more about my opinion on Accutane and why I decided to take it, you can read about that here. Anyway, after such a strong acne treatment, I knew I wanted my fresh clear skin to get the best possible skincare regimen ever… So I reached out to one of the most kind, knowledgeable and wonderful people I know. In this blog post I will tell you about my current skin condition as well as the products I use and how I use them. 
Current Skin Condition 
First and foremost, it is a little difficult for me to post the picture featured below because I never wanted anyone to see my skin for what it was at its worst. I did my best to camouflage this textured, inflamed acne with my trusted and well loved Kat Von D Lock-It foundation but as you can see it didn't do much for me beneath my makeup mask. I cannot even begin to explain how self-conscious I was about my skin and acne and how ashamed I was for people to see me without makeup, and even then I tried to attract very little attention to my face. To this day, even though my skin is clear (and has been since about September of 2017), it's as if my mind doesn't register that I no longer have textured, acne covered skin because I am still uncomfortable without makeup. My confidence around anyone, even close friends is much lower without makeup, which is something I hate to admit, but this is the reality for a lot of people suffering from acne and it's unimaginable and very hard to understand unless you've suffered from it yourself. Thankfully, my skin has been clear for several months now (hoping for many more), and I am getting increasingly comfortable without makeup and slowly loving the skin I'm in. Nonetheless, the progression of pictures below is definitely not my most flattering moment, but I think it's important and hopefully encouraging for those of you suffering from acne to know that clear skin does exist and I truly couldn't be happier with the results from having taken Accutane. I will acknowledge that Accutane is 99% responsible for clearing up my hormonal acne, BUT I know that the success of my results as well as my continued recovery (in terms or re-occurring pimples, scarring, texture, radiance and skin tone) have a lot, if not everything to do with my diet, supplement regime and skin care routine. So, below, you'll find information on one piece of that puzzle: skincare.

From left to right: the first and second pictures are both sides of my face before I started Accutane when my skin was at its worst, as you can tell it was quite inflamed (around April 2017); the middle picture is when I was nearly finished my Accutane (I was on it for about 6 months, I started in May/June of 2017 and this was around the fifth month mark), and the last picture is around 4-5 months post treatment (April 2017), as you can tell the redness and scars have faded substantially.
Skincare Routine 
Today I keep my skincare regimen very simple, I must admit, this is quite easy to do when your skin is clear… Who would've thought! Long gone are the days when I would spend HUNDREDS of dollars on the most recent acne spot treatments, face washes or creams. Daily, I use a cleanser, moisturizer or face oil and an under-eye cream, that's it! Some days, I even skip the moisturizer, I'll only use it if my skin is feeling tight or particularly dry. I have also found that switching up the cleanser or moisturizer (or refraining from using it at all) every few days has helped my skin stay consistently nice and refreshed.
Morning Routine (usually followed by my makeup routine)
I cleanse my face with a gentle foaming cleanser* after my workout
I moisturize with an SPF 15 moisturizer by Simple Skincare
Nighttime Routine 
I remove my makeup with Garnier Micellar cleansing water (LOVE this so much)
I cleanse my face with a gentle foaming cleanser* or this VICHY 3-1 product
Either I will leave my skin as is or I'll moisturize it with this VICHY cream that is supposed to help with acne scars, and when I do moisturize it, I 'll always add a few drops of my absolute favorite night oil*
Finally I use my de-puffing, anti-dark circle nourishing under eye cream* and spot treat (if I have a small pimple) with the leftover benzoyl peroxide cream I have from my dermatologist and pre-Accutane days (note: diluted tea tree oil can also be used for this or even a dab of a clay face mask to dehydrate the pimple)
Note: once a week or so I will exfoliate and use a face mask, for fun and to give my skin a little extra love!
Infuso Magica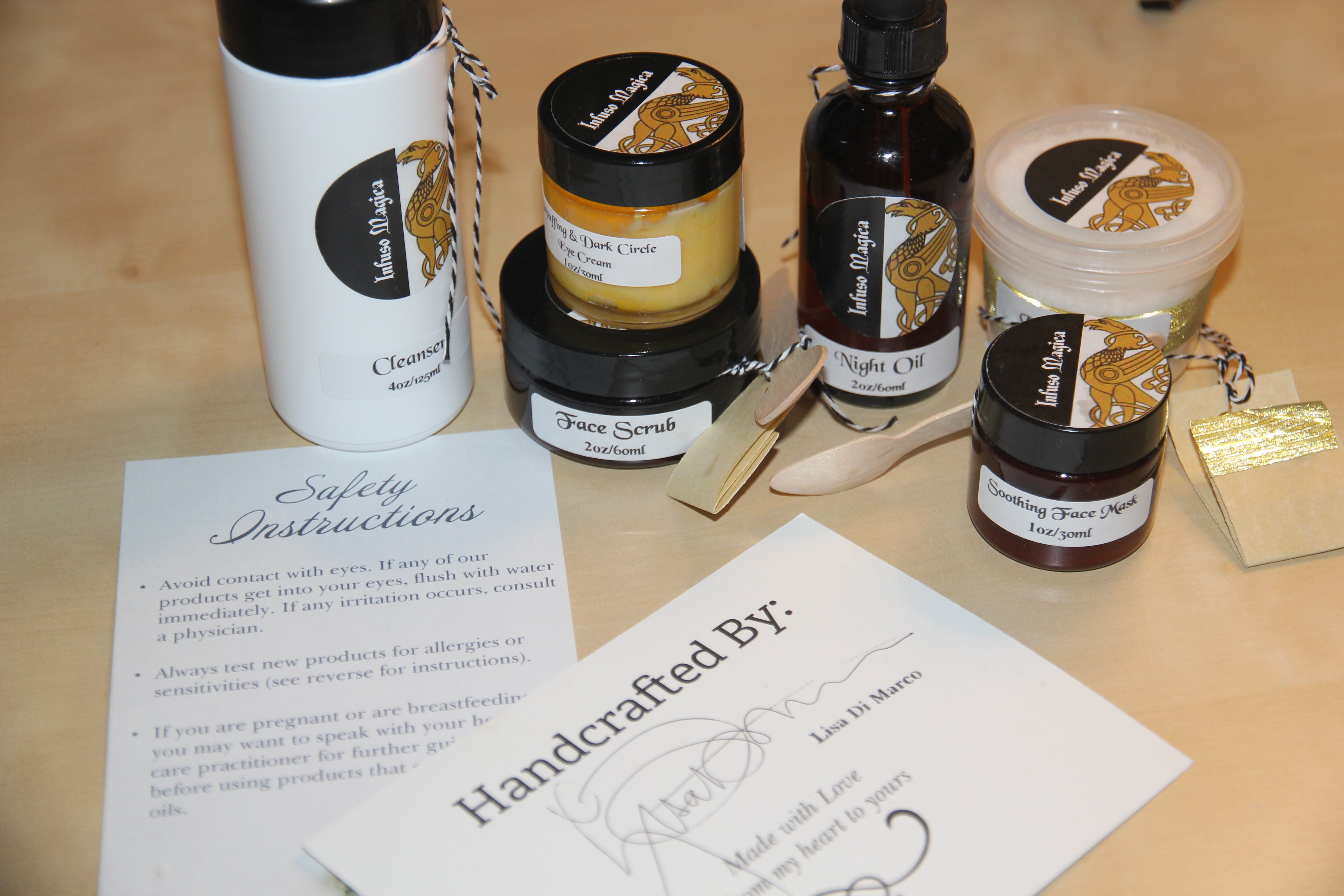 *Now, you may have noticed that I marked my gentle foaming cleanser, night oil and under eye cream with an asterisk and that is because these three products are my FAVORITE out of all the products I use! They were specially concocted for me and my skin and locally-sourced from one of the most beautiful people I know, inside and out. I'm going to tell you about these products because they have helped my skin so much in terms of nourishment for optimal skin texture and radiance. Following a harsh treatment like Accutane, I know these products have been one of the best "recovery" remedies and my skin has evidently thanked me.
A few years ago, I met Lisa Di Marco and quickly grew fond of both her admirable personality and her homemade skincare products, which are known today under the brand name of Infuso Magica. I explained to Lisa my struggle with hormonal acne caused by PCOS, my experience with acne, acne scars and my current skincare needs; I couldn't have been happier with the products she provided me with. She took the time to research my condition and skincare concerns to selectively choose the best suited ingredients for my product line so that I could reach my most beautiful skin.
Although I can't tell you much about each ingredient Lisa used, I can tell you what she made for me and how it's helped my skin. I have yet to explore the world of DIY skincare, perhaps that will be a new venture of mine… But for now, I whole hardheartedly trust Lisa and will continue to do so because I've experience wonderful results. Should you have any questions or would like her to make you some custom products as well, you can contact her at infusomagica@yahoo.com 
Now, onto the products…Lisa made me quite a range of products in my skincare line including: a cleanser, a night oil, an under eye cream, a face scrub and mask. I didn't need a moisturizer at the time, otherwise it would have been included in the product list as well. I'm going to tell you a little but about each product in a list form so that it's easier to read and navigate.
But before anything… Let's just take a moment to appreciate the handmade packaging, it is ABSOLUTELY beautiful. The attention to detail in this packaging is incredible from the golden ribbon to the attached ingredient list to Lisa's inspiring logo design. I also can't forget the pretty thank you note and care instructions that are so nicely printed. I truly love everything about these products inside and out!
First is the gentle foaming cleanser: this cleanser comes in a beautiful pump bottle and contains a lot of product that will last you a long time, especially considering that you only need 1-2 pumps at a time. It has a very fresh and almost citrusy scent and has a really nice foamy texture that is both light and nourishing. I really enjoy cleansing my face with this product as it almost dissolves into my skin while also moisturizing it and removing all of my makeup.

Key Ingredients: aloe vera extract, flower water, jojoba oil, honey and lavender oil (makes it smell so lovely!)

The second product is the face scrub that smells like a freshly brewed cup of hot coffee, and since I LOVE the smell of coffee beans it couldn't be better. In fact, Lisa used ground coffee beans in this mixture because they are such an effective yet gentle natural exfoliant. I like to mix a little spoon of this (and this little spoon is included in the packaging by the way: too cute!) with some warm water or milk for extra hydration. As it washes away any uneven texture and dead skin cells, my skin is left to feel so soft, smooth and refreshed after using this scrub.

Key Ingredients: espresso, almond and chickpea

The third product is the face mask, it's a powdered clay mixture that activates upon the addition of water or again, milk for extra hydration. The bentonite clay in this mask is perfect for extracting the excess oils my skin produces, especially in my T-zone, while also tightening my pores. It's a bit more drying, which is why it should ideally only be used once a week.

Key Ingredients: bentonite clay, cardamom, activated charcoal, sandalwood and rose oil

The third product is the night oil, I cannot say enough good things about this magical concoction. It feels SO good to massage onto my skin and gives my skin the ultimate hydration boost for a dewy, youthful finish. The morning after I apply this oil my skin is so calm, even and moisturized. It preps my skin really well for makeup application the following day. It's also super nice to wear alone, add to an existing moisturizer (which I always do), or add to your primer/foundation as a "makeup oil" for a dewier, seamless foundation finish.

Key Ingredients: pomegranate, carrot seed, evening primrose, rose hip, marula oil, raspberry, seabuckthorn, hemp, walnut, grapefruit and sage

Last but not least, is the under eye cream. This is a thick, yellow cream that is brightening like the sun and hydrating too. It feels slightly cooling and replenishes a lot of moisture into the delicate skin under your eye. I've found that since I've been using it, my under eye concealer applies really well and doesn't crack because my under eye skin is very well primed and hydrated.

Key Ingredients: aloe vera extract, rose hip oil, cucumber oil, shea butter, grapefruit extract and vitamin E
As you can tell, I love my products and I'm so happy I've found a skincare routine that works for me. I really hope that my suggestions and evidence of clearer skin are helpful and inspire you to find a regime that works for you and your skin type. Should you wish to contact Lisa, you can be fully confident in her capabilities to design individualized products that will do wonders for you skin. Affordable and beautiful, her products will never disappoint!
CONTACT: infusomagica@yahoo.com 
I also hope you enjoyed this post, -my apologies, I know it was long, but if you read all of it, thank you! If you want me to blog on similar topics please let me know an finally, if you have any questions, comments or concerns, please do not hesitate to ask.
xx Leah
---
Also published on Medium.