This recipe is one of my favourite things to snack on and is a true staple in my weekly meal prep. After lunch alongside a cup of matcha these snack bombs are the ideal afternoon (or morning) pick me up/pre-workout/pre-dinner snack. Some call them fat bombs, I have called them energy Timbits in the past as well (re: this recipe) but either way they hit all the checkmarks keto/GF/paleo/vegan! They are low in sugar so they will definitely keep your blood sugar levels at bay and they couldn't be easier to make. These are also packed with healthy fats from various nuts and seeds, which will keep your hormones, skin and hair shiny, glowing and beautiful!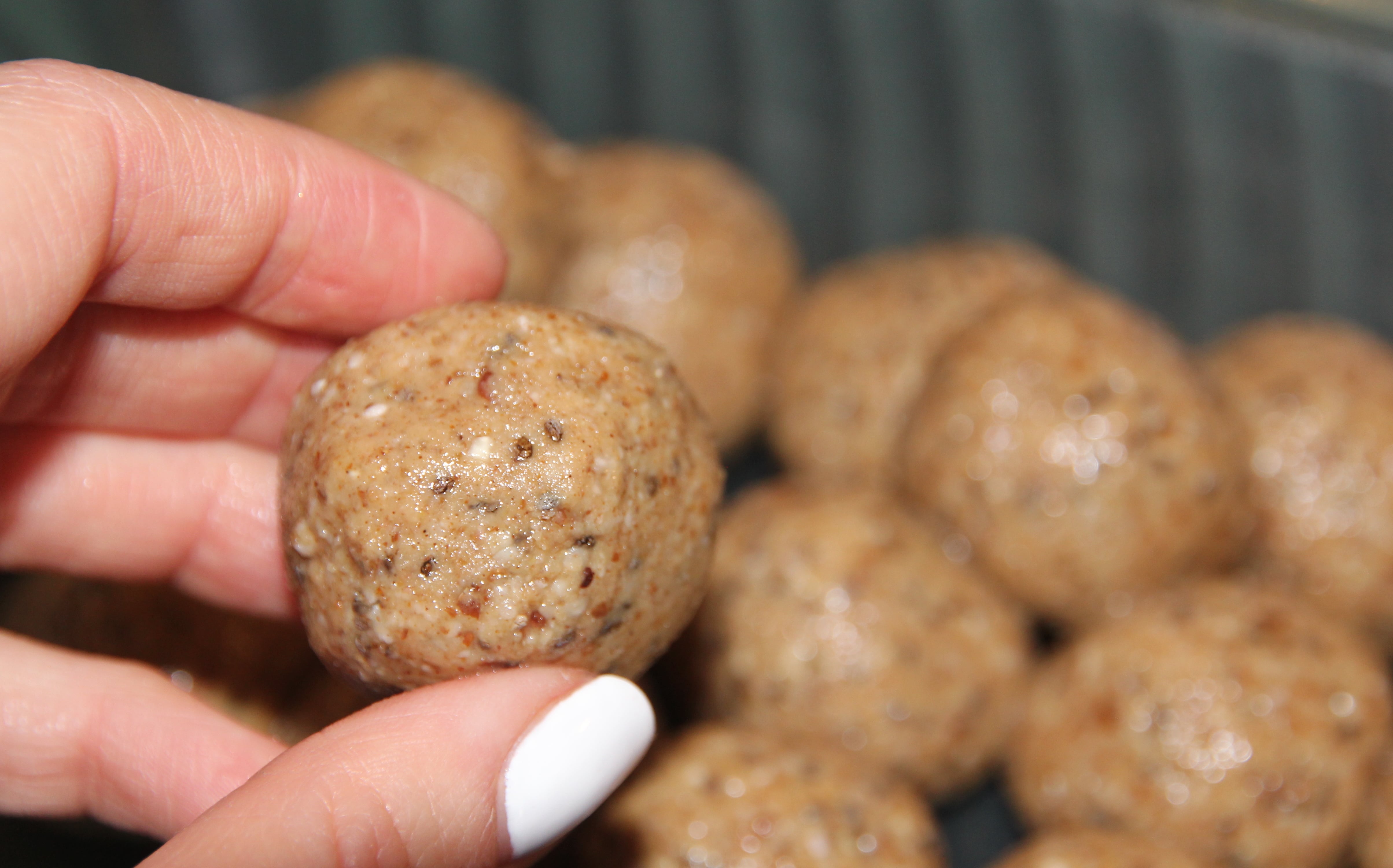 Ingredients 
-1 cup raw, unsalted walnuts
-1/4 cup raw, unsalted almonds
-1/4 cup raw, unsalted sunflower or pumpkin seeds
-1/2 cup shredded, unsweetened coconut
-2 tbsp raw almond butter
-1/4 cup tahini
-1 heaping tbsp coconut oil
-2 tbsp chia seeds
-2 tbsp ground flaxseed
-1 tbsp maca powder *optional (a hormone balancing plant root powder)
-2 pitted medjool dates
-1 tsp pure vanilla extract
-1 tsp ground cinnamon
-Pinch of pink Himalayan sea salt
-Other optional add ins include cocoa nibs, hemp hearts, goji berries, raw cocoa powder or anything other superfood you enjoy for flavour and texture!
Directions
Blend all of the ingredients in a food processor until the mixture starts coming together, it should be a little sticky and the nuts should be coarse but not too chunky. Feel the mixture and be sure it can be molded in bite-sized balls and if the mixture isn't quite malleable enough, blend it a little more until an optimal consistency is reached. Form into bite-sized or Timbit-sized balls and freeze to keep fresh. My batch made 18 balls to give you an idea of size.
TIP: Make them as big or as small as you'd like, you can also make varying sizes to satisfy different appetites for days that you are hungrier or not as hungry.
xx Leah
---
Also published on Medium.