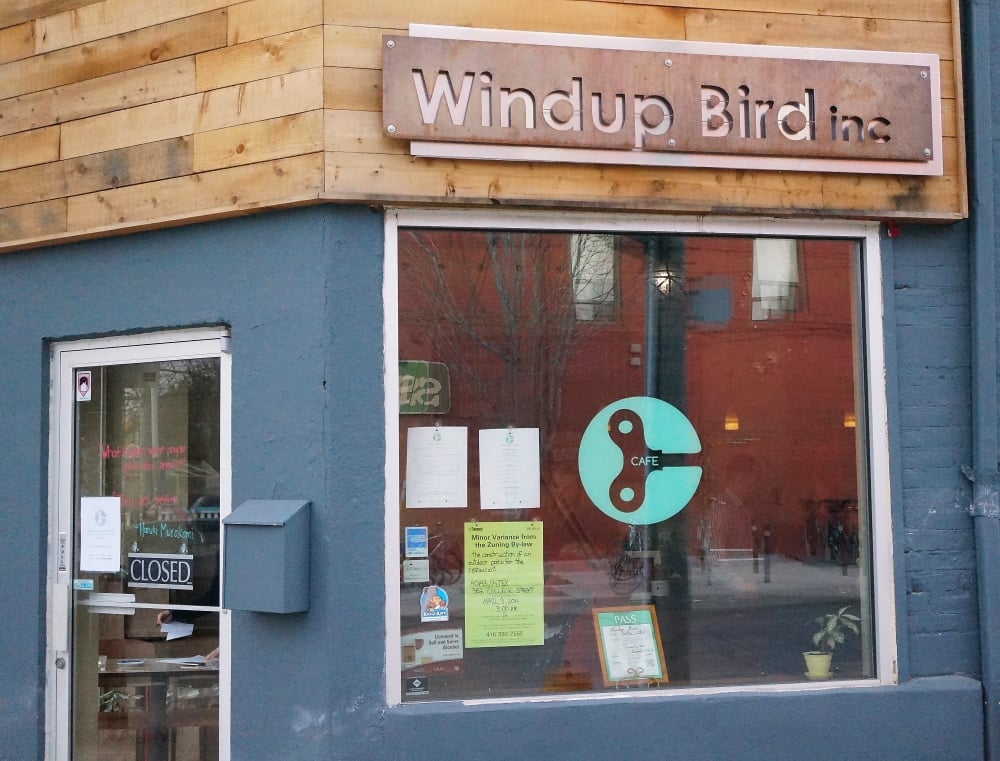 I had the pleasure of taste testing an array; well 14 to be exact of wonderful dishes prepared by Chef Yumiko at Windup Bird Cafe in downtown Toronto. I was also very lucky to have restauranteur Sang Kim give me all the details on these fabulous meals, here's what I thought… Enjoy!
-Proteen Queen
Pro-Rating by the Proteen Queen
| | |
| --- | --- |
| Health Rating | How healthy the dish is on a scale of 1-5 |
| Flavour | Description of taste |
| Texture | How the dish feels in your mouth |
| Presentation | The visual appeal of the dish |
| Fun Factor | Something unique the dish has to offer |
I'm not quite sure if it's the simplistic retro ambiance of the restaurant or the lovely staff but Windup Bird Cafe is worth the visit.
My abundant meal to say the least-thanks to the wonderfully talented Chef Yumiko started off with Duck Fat Fries… I know, it's not something I would normally eat so this would DEFINITELY be considered a "treat" meal. And what a treat it was.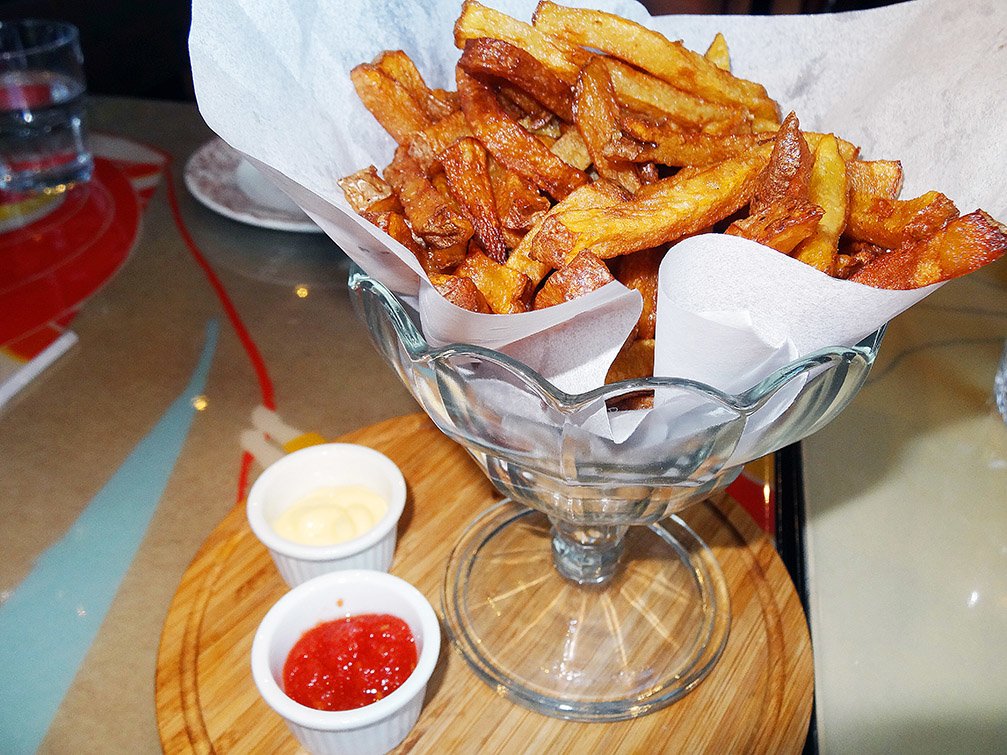 Health Rating: 1
Flavour: A very subtle salty flavour that was perfectly balanced by the homemade spicy ketchup and the Japanese mayo.
Texture: Fried once in veggie oil and a second time in duck fat these crispy fries were creamy with no oily residue. The mayo and ketchup were a light addition to these hand cut creations.
Presentation: A mouth-watering presentation that deceptively embodied a diner feel. The skin of the potato also added a very rustic touch to the presentation.
Fun Factor: Considering the calories this side dish is perfect for sharing!
2. Traditionally Greek, this dish was presented with a unique twist. Chef Yumiko created a light falafel with a playful appearance.
Health Rating: 4
Flavour: The initial spice sets the pace for layers of sweet and savory flavours creating depth throughout this dish. The grilled vegetables bring out the smokey flavour of the falafel as well.
Texture: Dry and slightly crispy on the outside with a moist and textured center.
Presentation: Colorful and plentiful, a perfect example of a summer dinner.
Fun Factor: Falafels are made from chickpeas; a great protein for plant-based eaters!
3. Salad is my favourite thing to eat and this salad is one-if not THE BEST salad I have ever had!! It is a creation of some of the healthiest and most delicious foods like trout, avocado and sunflower seeds.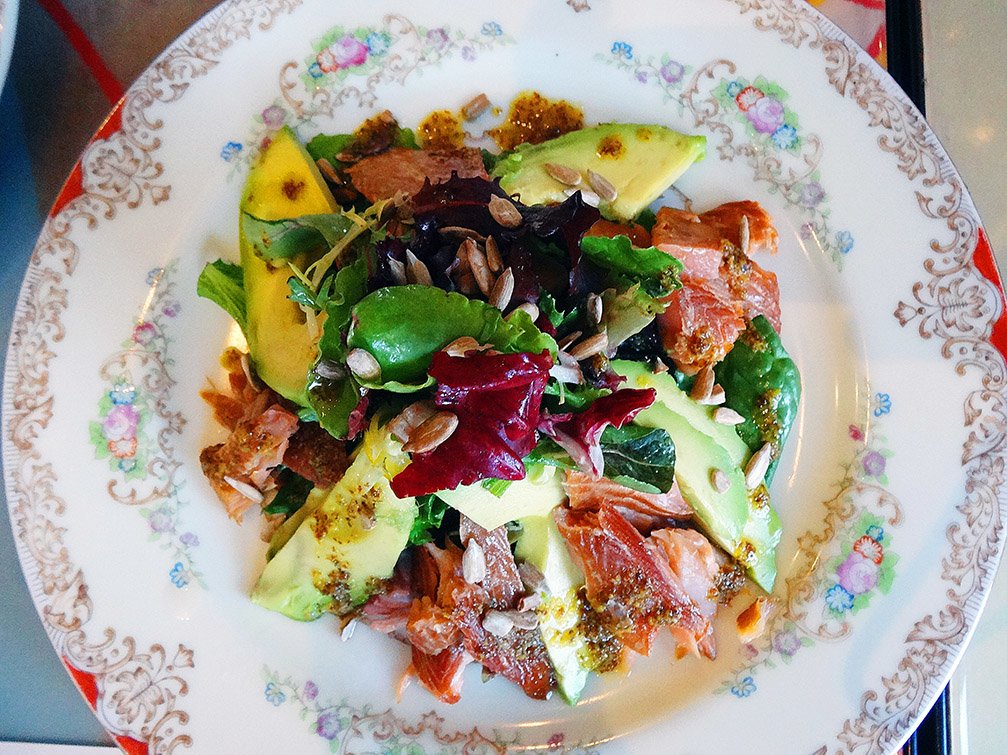 Health Rating: 5
Flavour: Fresh and filling, the smoked trout added to this summer salad creates an aromatic flavour explosion!!
Texture: This dish is very satisfying thanks to its various components; the meaty fish, creamy avocado and crisp spring greens that capture every desired texture and flavor.
Presentation: Beautiful! They say you are what you eat, well if I was truly this salad I would be walking down a runway! 
Fun Factor: Use trout as your choice of fish in various recipes since it can be found right here in Ontario!
4. I have never had lamb before although, I was pleasantly surprised by these popsicle like chops and wouldn't eat them any other way but with a side of cabbage of course!
Health Rating: 4
Flavour: The first thing that comes to mind when I reminisce about this dish is refreshing, especially because of the crunchy and crisp cabbage. The lamb however, was extremely flavourful, it carried a mild spice complimented by a hint of sweetness.
Texture: Meaty of course but most of all decadent, as you bite into a layer of spiced up crunch this lamb melts in your mouth more than ice in the sun; it's almost magic!
Presentation: Simple yet delectable, you knew it was going to be delicious when served on a sizzling skillet.
Fun Factor: This is one meaty popsicle made from 100% grass fed Ontario lamb.
5. Scrumptious and delicious this "popcorn" chicken is a must try!
Health Rating: This dish presents hearty protein content, but unfortunately due to its fried outer layer it receives a 2 in the health department.
Flavour: Subtle and not overly salty the use of chicken thighs and chicken breast creates a well-balanced combination with lots of extra flavor.
Texture: A crispy and crunchy outside envelops pure and moist chicken.
Presentation: I guess when something isn't so healthy it isn't so colorful either but by looking at this crispy creation I knew I was witnessing the ultimate finger food. If I had to eat something fried, it would definitely be this! 
Fun Factor: This dish was created with locally sourced ingredients all from 50-100km away!
6. Wow!! You've got to try this chilled dill soup for yourself in order to understand its amazing qualities.
Health Rating: So healthy you can taste it-5!
Flavour: Not being the biggest dill fan, I was surprised by the intense flavour combinations, fresh, cool and spicy are the adjectives that come to mind when drinking this soup!
Texture: Creamy and smooth almost like a soup-ed up pudding.
Presentation: Even if my portion was simply a sample, it was enough, so this mini wine glass was the perfect boat for this stunning green soup.
Fun Factor: This would make the perfect post workout smoothie!
7. Rappini a good way for a butter and bread lover to eat their greens!
Health Rating: Even if it's a vegetable, being cooked in a white wine butter sauce gives this dish a 2. However, butter may be used sparingly instead of margarine because it is much more natural anyway.
Flavour: Very garlicky with a mild yet bitter salty bite.
Texture: Wilted greens in a saucy bath filled with meaty mushrooms.
Presentation: A true mound ooey-gooey goodness…
Fun Factor: Nothing gets wasted here as you can soak up your extra sauce with crusty French bread Mmm…
8. Normally, I'm not the biggest red meat fan HOWEVER this beef tenderloin was like no other…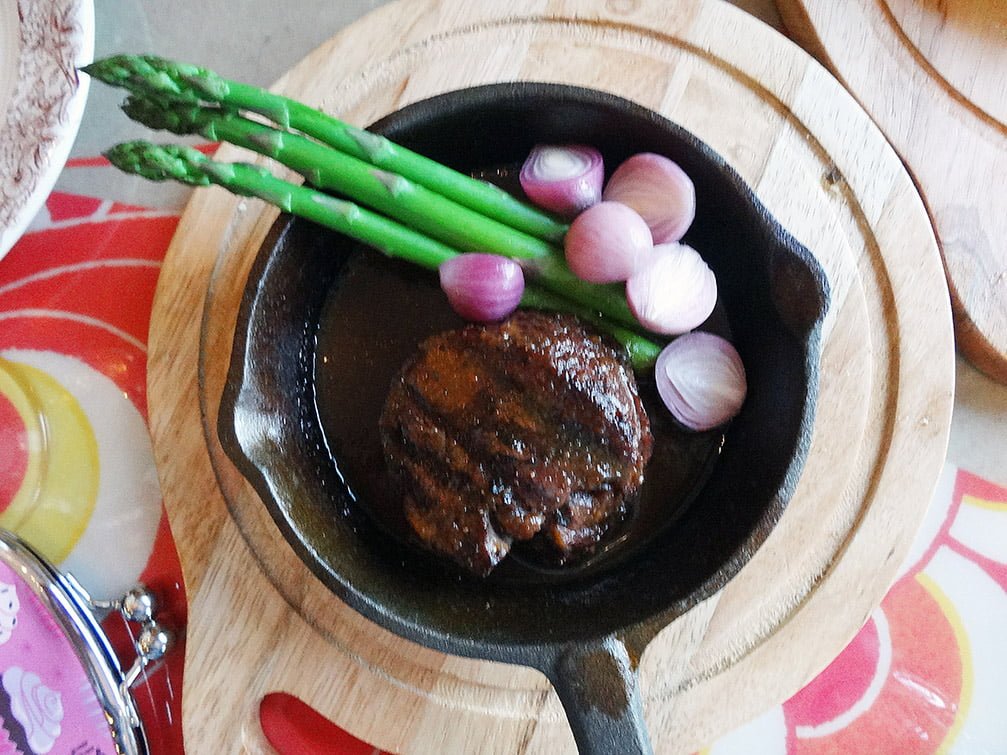 Health Rating: Keeping in mind that red meat should only be eaten occasionally-4.
Flavour: Very smooth cut of meat accompanied by a delicate sweet onion sauce.
Texture: Dense and buttery with a nice spiced up crust.
Presentation: A perfect balance between iron-rich protein, vibrant greens and sweet shallots! 
Fun Factor: This beef is so tender all you need is a fork!
9. I was transported to Tinkerbell's kitchen upon the arrival of the whimsical ceviche: fresh tilapia cooked in citric acid and adorned with red onion, mango and fresh herbs. I felt very tropical and healthy as I ate this unique meal.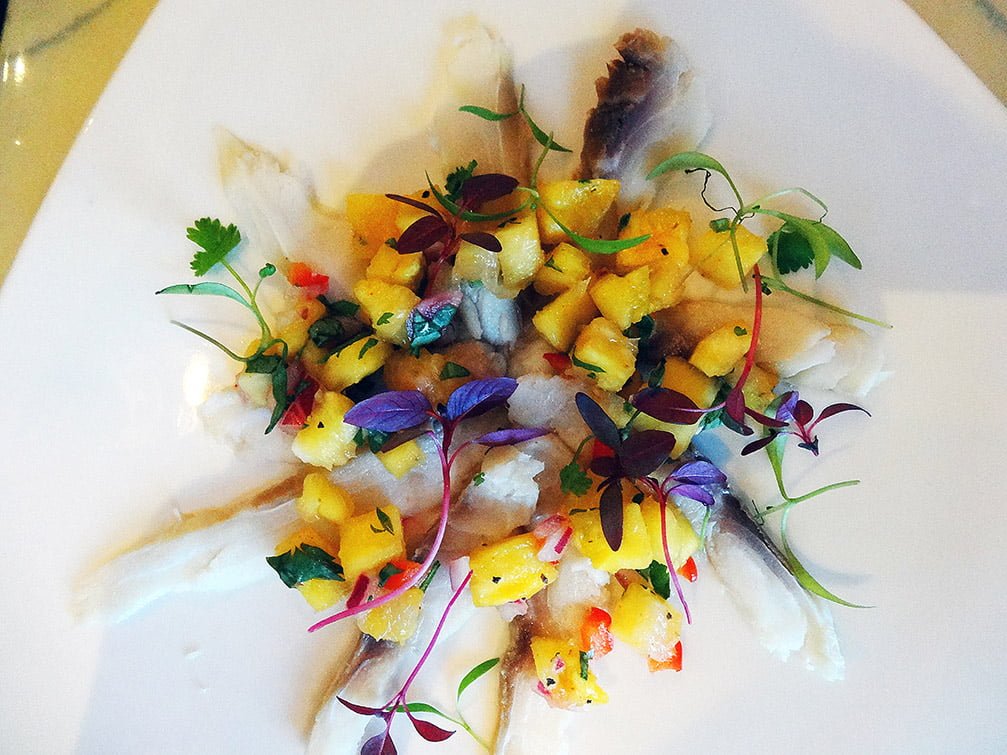 Health Rating: 5, fish is a fantastic source of healthy fats.
Flavour: Tangy and sweet all in one small delicate bite!
Texture: Smooth fresh fish along with soft & sweet toppings.
Presentation: The bright yellow mango contrasting with the deep purple on a white background was absolutely beautiful, just like a blossoming flower!
Fun Factor: Ceviche is originally a South American dish, once again portraying Chef Yumiko's diversity in the kitchen.
10. As I recalled the "traditional" bread and cheese sandwich I definitely felt all grown up eating this upscale version of a grilled cheese.
Health Rating: 1 (I think it's self explanatory! Haha…)
Flavour: Golden grilled crust on the outside with a salty and moist center dipped in sweet sweet homemade ketchup. Better described as a savoury Oreo.
Texture: High quality cheesy texture paired perfectly with extremely fluffy, chewy and airy bread. Definitely far from oily!
Presentation: A rocky set of perfectly melted cheesy mountains.
Fun Factor: This grilled cheese is made from Japanese bread! So delicious!
11. This curry is part of the delicious and sophisticated children's menu and makes for ideal comfort food. It's the perfect introductory dish for kids who are new to spice!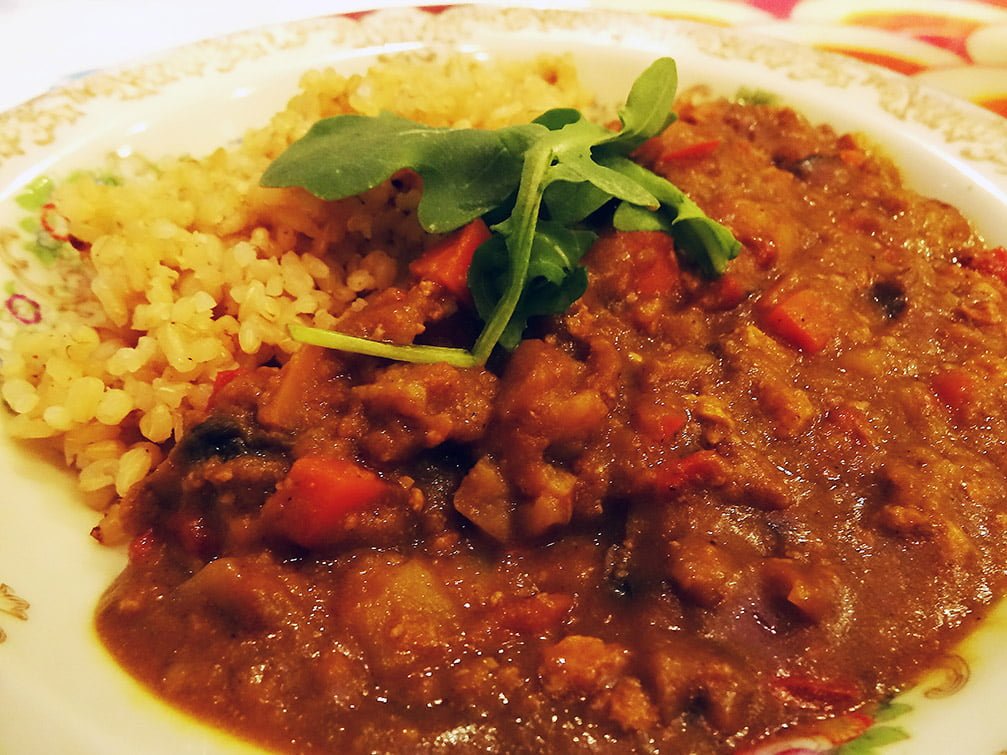 Health Rating: 4 super authentic with a healthy twist, this curry is filled with veggies and you wouldn't even know it…
Flavour: D-E-L-I-C-I-O-U-S This curry was probably my favourite dish. I absolutely loved the combination of the earthy Lundberg rice, subtle spices and a touch of sweetness.
Texture: The exotic rice carried a nice bite along with the creamy curry.
Presentation: The presentation of this curry was very appropriate considering the fact that it's on the kids menu because the curry and rice were perfectly separated so much so that kids could not use the excuse that their food is touching when avoiding a meal, but why would you anyway with this dish!?
Fun Factor: This delicious curry was influenced by the year Chef Yumiko spent in India.
12. A popsicle, especially this one is the perfect summer treat. It's a mouthwatering frozen sunset!
Health Rating: 2
Flavour: Not too sweet and slightly tart.
Texture: Creamy of course with added texture from the fresh berries.
Presentation: A frozen pink treat resting on a bed of yellow jello cubes keeping it fresh! 
Fun Factor: These popsicles can easily inspire a DIY dessert!
13. I love and always have loved chocolate, so this gluten-free chocolate cake was right up my alley!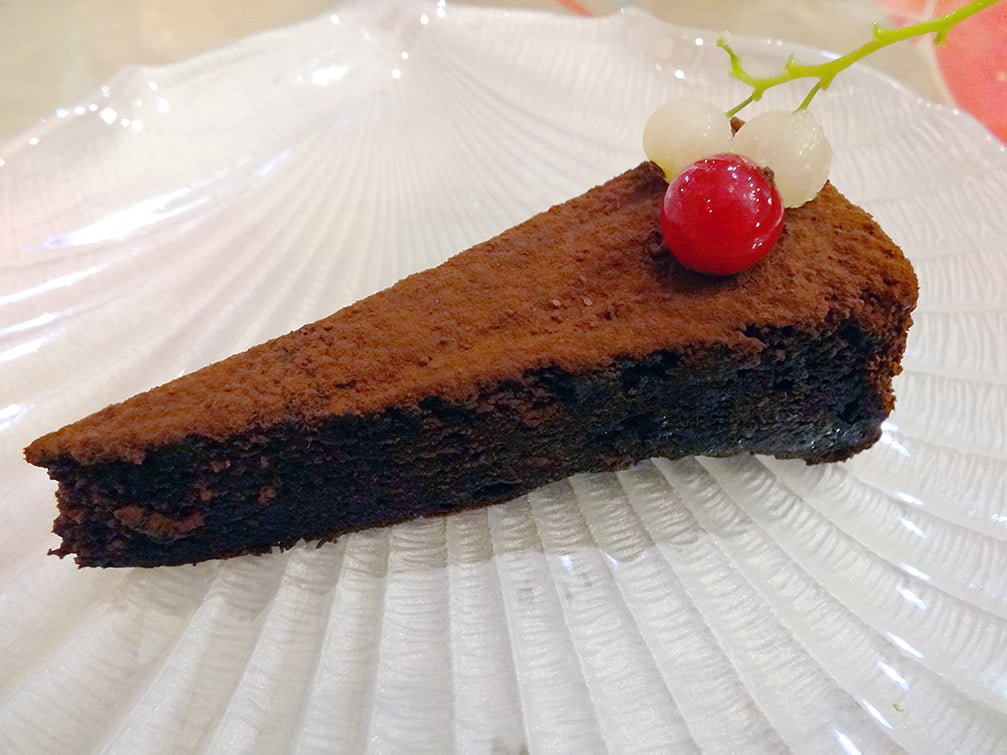 Health Rating: 1 although dark chocolate contains some antioxidants properties; bonus!
Flavour: Very earthy with a pure cocoa flavour.
Texture: Chewy and moist.
Presentation: A wonderful shell plate was the oyster for this little slice of chocolate heaven.
Fun Factor: Made with 70% dark chocolate.
14. Oh my… This mousse was so refreshing and delightful it reminded me of a tropical destination!
Health Rating: 2
Flavour: Made with passion fruit this mousse was sweet yet tart creating a very balanced and uniform flavour.
Texture: A very light and airy mousse that disappears in your mouth just like cotton candy only better!
Presentation: A yellow pond of passion, well passion fruit that is… 
Fun Factor: Lingonberries or cowberries which top this tart dessert are slightly acid but full of vitamins.
Proteen Queen