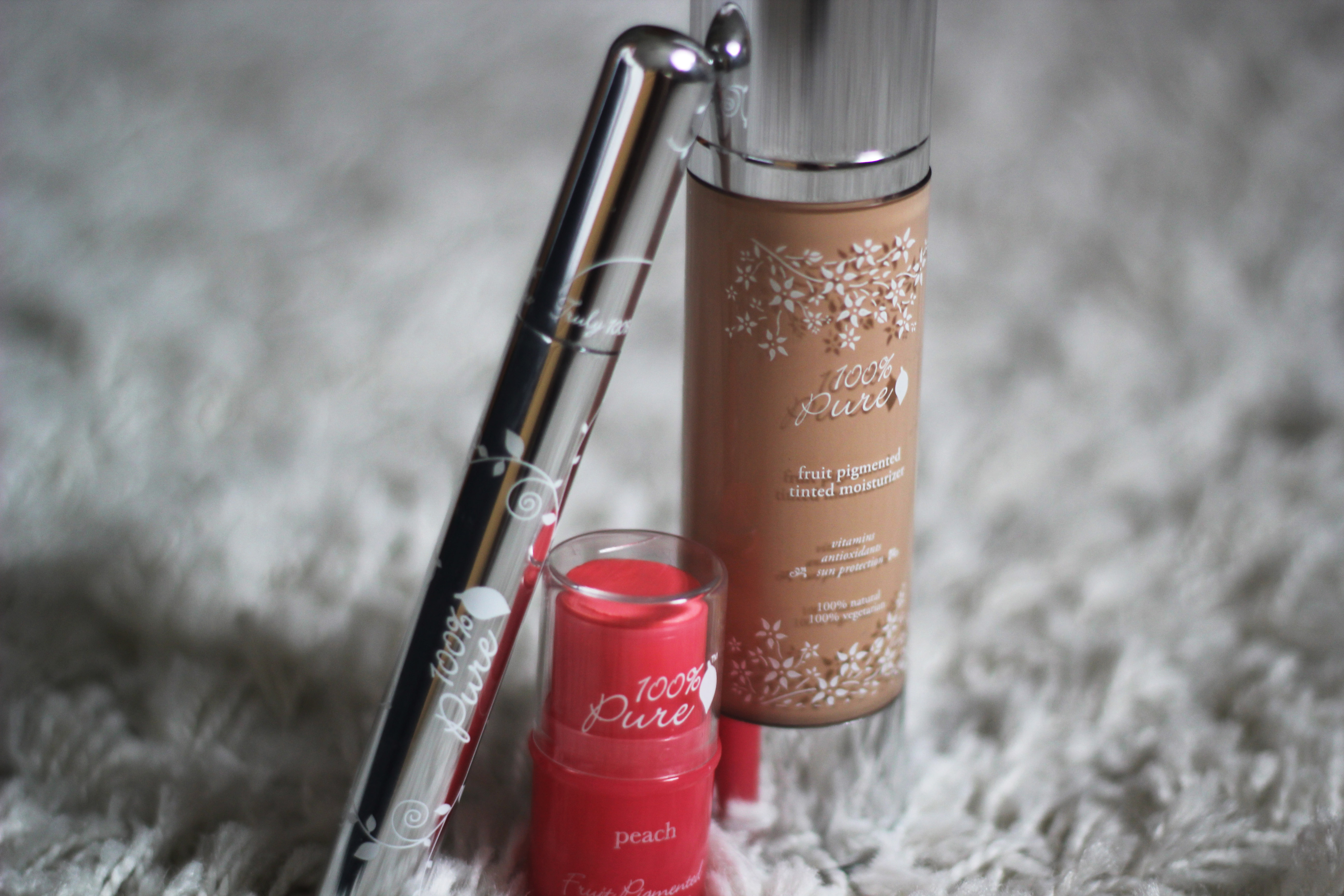 I recently purchased a tinted moisturizer with SPF 20 from 100% Pure as well as their lip & cheek tint and their mascara. Here's my review!
I took a chance ordering these products online because I read mixed reviews. However, I like them! I was really looking for natural products that aren't harmful to my skin, and I think I've found them. They didn't contain any ingredients that I doubted. I checked David's Suzuki's list of "Dirty Dozen" and Jessica Alba's list of "dishonest" ingredients from her book The Honest Life and none of them appeared on the label, so I was pleased! In fact, the company has a score of 1 according to ewg.org so there's nothing to be concerned of when shopping around 100percentpure.ca
Moisturizer: I really liked the color of my tinted moisturizer (I got the light colored one), especially since it's tinted with fruit! It offers minimal coverage but it gives you a beautiful natural looking glow for young skin or for someone looking for just an extra boost of color instead of a regular moisturizer. After applying this, I'll usually go over with a thin layer of my favorite powder just to reduce some of the shine. Overall, I give this a 7/10!
Lip & Cheek tint: I love this product! It has a fantastic cream-like consistency almost like a lip balm and applies very smoothly. I use it to highlight my upper cheeks bones, the bridge of my nose and sometimes underneath my eyebrows. It's discretely bright in color, which also makes it a delicate lip butter with a hint of pink! I give this 9/10!
Mascara: I LOVE the smell of this mascara! I choose the blackberry colored mascara which is black-purple and it smells fantastic! Although, it makes sense because it made with actual blackberries. I would definitely recommend this mascara. After I curl my lashes, I simply dip my brush in the tube and apply it to my top and bottom lashes. It noticeably makes my lashes look fuller, thicker and darker and it doesn't clump! Of course, for a more dramatic look you could apply multiple coats but for everyday use, it's a must! A "healthy" mascara is especially important to find because in my opinion, it's the #1 beauty product and too often it contains ingredients you DO NOT want to be putting on your eyes! So I give this 8/10
I hope this review helps you make better make-up choices, and remember,
Stay Healthy!
Proteen Queen